If you already have an account on our website, please
log in
to continue
Chess camp registration is closed. Thank you for your interest.
Please use this form to register for our Summer Chess Camps with your PCC member discount.
---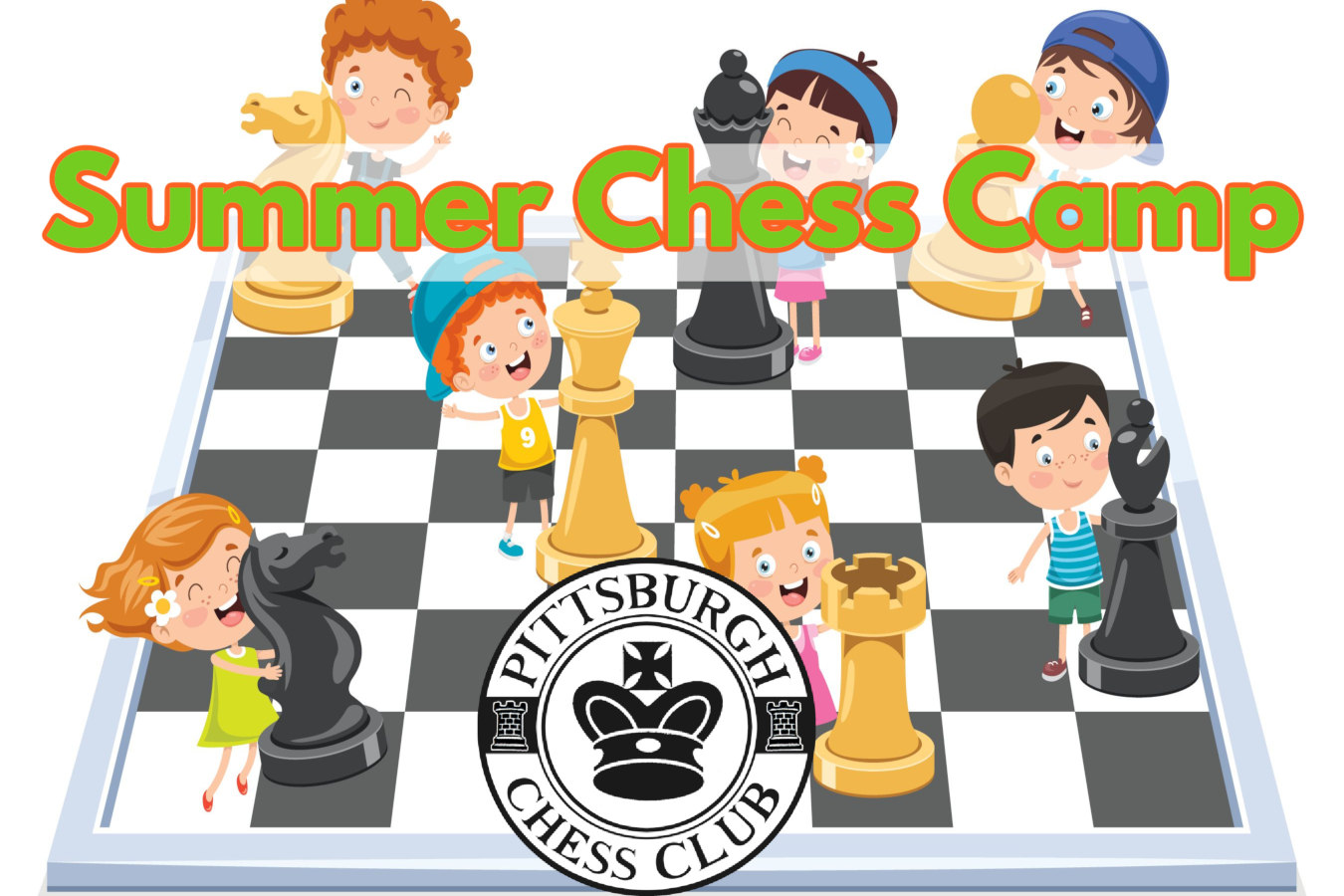 Our chess summer camp is a great way for new students to learn the game of chess and for experienced students to deepen their understanding. Our instructors will provide daily lessons, puzzles, and games to help guide students through each session. Each camper receives a Summer Chess Camp T-shirt and a tournament-style chess set.
PCC Summer Camp Dates
Summer Camp I: Monday, July 17 - Thursday, July 20, 2023
Summer Camp II: Monday, July 24 - Thursday, July 27, 2023
Times
Full day: 9 a.m. - 4 p.m.
AM only: 9 a.m. - 12 p.m.
PM only: 1:00 p.m. - 4 p.m.
Location
Katz Auditorium, Robinson Building, Jewish Community Center of Greater Pittsburgh, 5738 Darlington Rd, Pittsburgh, PA 15217
*Note: Neither the Pittsburgh Chess Club nor Summer Chess Camp are affiliated with the Jewish Community Center of Greater Pittsburgh.
Lessons
Campers are broken into groups by skill level, ranging from beginner through intermediate-rated tournament player. Activities include learning beginning fundamentals, tactics, endgames, middlegame planning, strategy, studying master games, playing games against fellow students, and analyzing students' games. Campers take periodic breaks for snacks, fresh air, and physical activity. Full-day campers have lunch and recess from 12:00 – 1:00. Please see the sample schedule for an example of activities.
Experienced Instructors

Colin Henchy
Registration Fees
One week full-days: $330/week (Members), $360/week (Non-Members), $255/week (Sibling)
One week half-days: $185/week (Members), $200/week (Non-Members), $125/week (Sibling)
There is a 10% discount for two week registrations.
Please contact us at [email protected] should you need us to prorate for less days. We will follow-up with a quote for the prorated fee and invoice for the new amount.
.
Ages
6-14
Lunch and Snacks
For Full Day campers, we will have lunch catered by the JCC at around 12pm. The Catering Director has confirmed they are a nut free facility. If requested, they can offer vegan entree substitutes. There are two options for lunches: 1) A similar lunch that is provided to the early childhood development center but the portion size is increased for ages 6-8 (see below for a sample week menu), 2) the "Modified Lunch" consisting of a sandwich/wrap & chips or fruit cup; sunbutter & jelly sandwiches can be substituted as the vegan option for the Modified Lunch option, or 3) you can pack your own sacked lunch, but please note that all food brought into the JCC should follow the JCC guidelines, out of respect for the JCC constituents and their core values.
Please specify your lunch preference as well as any allergies and dietary restrictions in the registration form. A follow-up email will be sent to double check your selection.
We will also have snacks available during mid-morning and mid-afternoon breaks. Bottled water will be available throughout the day.
Arrival / Departure
Campers may be dropped off at 8:45 a.m.. All campers should be picked up by 4:15 p.m. AM Campers should be picked up between 12 p.m. and 12:15 p.m., PM campers should be dropped off between 12:45 p.m. and 1 p.m.
Early Drop-Off / Late Pick-up Hours
For the convenience of working parents, we will offer drop-offs before 8:45am and pick-ups after 4:15pm at an additional charge of $8.33/hour (ie. $50/week)
Early drop-off is available from 8:00 to 8:45 am. Late pick-up is available from 4:15 to 5:00pm. Please include this option in your registration if you know it will be needed.
Summer Chess Camp registration is on a first come, first served basis and must be paid in full to hold your spot.
Registration